You may know which hairstyle you like – but will it look right with your face? When you're on the market for a new style, it can be difficult to decide which one is best-suited for you. Fortunately, the selection process is easier than you think. Actually, just knowing which face shape you have can significantly narrow the field of choices.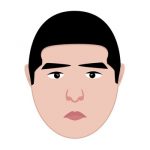 Oval Faces:
Length of the face is roughly 1.5-times the width. The oval face's biggest competitor is the square face – at least in terms of versatility. Almost any style goes with this face shape, as its symmetry gives it a strong edge. However, men with oval faces need to avoid long fringes, as these round out the face and cancel out some of the benefits of the oval shape.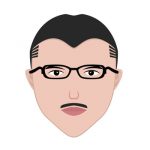 Triangular Faces:
Characterised by a pointy chin and a jaw that's noticeably wider than the forehead. Shorter on the sides and longer on the top is the prevailing rule of thumb for triangular faces. Side partings can bring out a masculine edge, while fades and undercuts create a pleasing contrast.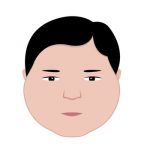 Round Faces:
Just like it sounds; width of forehead, cheekbones and jaw are roughly equal, with rounded (rather than angular) jawline.
A hairstyle with sharp angles and plenty of volume contrasts nicely with rounded features of this face shape. Keep the sides shorter and the top longer, as this can serve to 'lengthen' the face. Above all, avoid buzz cuts and hairstyles with full fringes, as these will round the face out even more.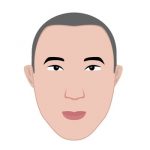 Oblong Faces:
These faces are more than 1.5 times longer than they are wide. Like an elongated oval face.
Oblong faces are relatively versatile when it comes to hairstyles, though overly short cuts can end up overemphasising the length of the face. Try something a bit longer, with a layered top. Likewise, longer hair worn down can help to round out and shorten the look of your face.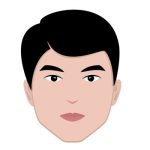 Diamond Faces:
Widest at the cheekbones, with jawline and forehead at the same length.
Similar to triangular faces, diamond faces look their best when accentuated with a side cut or a modern fade. In any event, these faces are at the best when the hair on the sides of the head is kept short, while some stylish formations are taking place on top.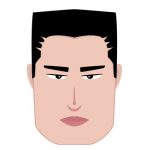 Square Faces:
Sharp angular features and sharp jawline; the jaw is the widest part of the face.
Square faces can get away with most hairstyles. In fact, there are some camps that insist this is the most desirable face shape. Needless to say, it doesn't come with any major warnings. In fact, almost anything goes. Sharp angular cuts bring out a masculine edge, but almost any style is going to look great on a square face.
Once you've determined which face you have, you'll have a much narrower selection of hairstyles to choose from. That should make it easier to determine which style you'd like to try with your new locks.